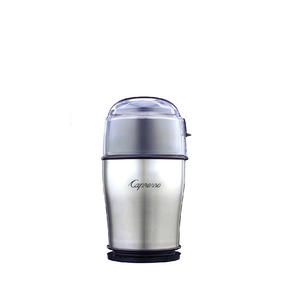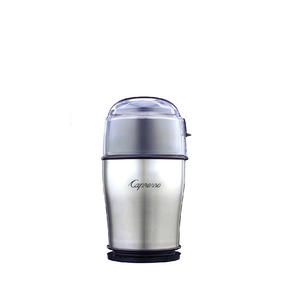 On Sale
Capresso Cool Grind PRO
The Cool Grind PRO Blade Coffee Grinder is the perfect grinder for your drip coffeemaker, French press or percolator. The large stainless steel grinding chamber reduces heat build up to preserve more of the coffee's aroma. It also does an excellent job grinding spices and herbs, adding zest to any recipe.
Features and Benefits
Stainless-steel blades and grinding chamber lower heat build up to preserve more flavor and aroma
Stainless-steel container and blades are easy to clean
Large capacity for more than 15 cups of coffee
Low-noise operation
Pulse action lets you control fineness of grind
Fastest safety stop (Less than 1.5 seconds)
Convenient wraparound cord storage
Clear see-through safety lid
Grinds coffee and spices
Stainless-steel housing
How Things Work
Grinding fresh whole bean coffee immediately before brewing is the first step to achieving the best tasting coffee at home. Ground coffee interacts with the air around it and, within hours, loses a great deal of flavor and aroma. The longer the ground coffee is exposed to air the more flavor is lost and the rich, full-bodied taste of the coffee cannot be obtained. The Cool Grind PRO Blade Coffee Grinder is also ideal for processing herbs and spices making it a versatile addition to any kitchen.
The stainless-steel blades will rotate at a very high speed (20,000 to 30,000 rpm) and quickly grind the coffee beans into fine particles. The longer the blades grind the coffee, the finer the coffee will become and can eventually lead to "coffee dust." It is recommended to pulse the blade grinder in short burst of 2-3 seconds so that the coffee does not get overheated while the blade is revolving. For a coarse grind, pulse for 8-10 seconds. For a medium grind, pulse for 10-15 seconds. It is not recommended to use a blade grinder for fine grinding as the consistency of the grind is not as uniform as burr grinders can achieve.