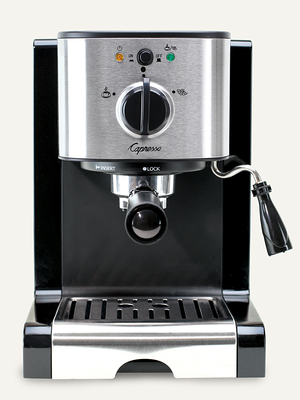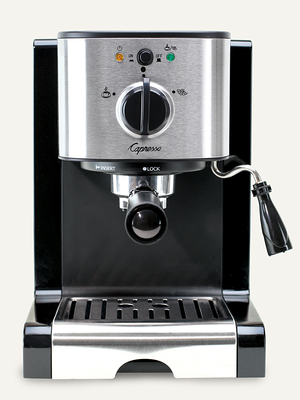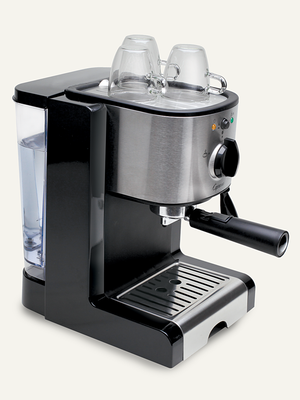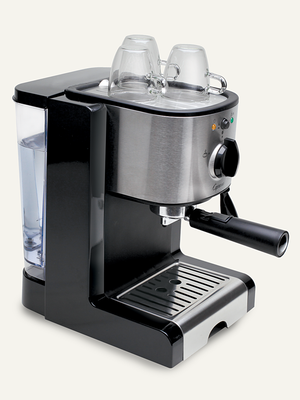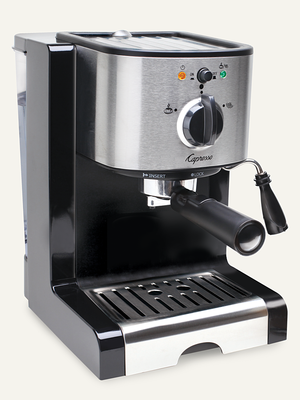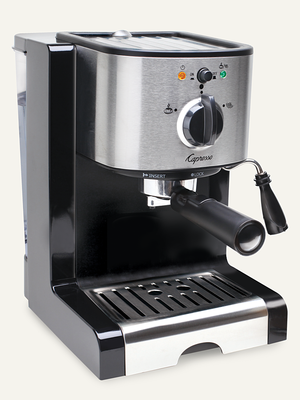 On Sale
Capresso EC100
Perfect the art of brewing espresso with the EC100 Pump Espresso & Cappuccino Machine, creating new and delicious gourmet coffee beverages quickly and easily in your own home.
Features and Benefits
Stainless-steel lined ThermoBlock heating system with 15 bars of pressure for perfect high-pressure brewed espresso
Removable 46-oz water container for easy filling and cleaning
Self-locking filter holder with thumbguard for proper fit
Two sieves to produce one or two rich, thick crema espressos at a time
Single sieve for pre-ground coffee or pre-packed espresso pods
Unlimited steam output for perfectly frothing or steaming milk for cappuccinos and lattes
Easy-to-use swivel frother for frothing directly in a tall glass or frothing pitcher
Separate frothing positions for steamed milk (latte) and frothed milk (cappuccino)
Removable heavy-duty, stainless steel cup warming platform
Indicator lights for "On/Off" and "Coffee/Steam"
Easy-to-clean removable stainless steel drip tray
Automatic rinsing cycle for proper temperature with no waiting between brewing espresso and steaming milk
How Things Work
The EC100 portafilter sieves are pressurized, making it easy to achieve excellent crema even if grind size or tamping pressure isn't perfect. 15 bars of pressure ensure flavor-rich espresso and the dual frother wand provides powerful steam/froth for delicious milk specialties.
Dual Frother
For ease of use and high-quality performance, the Dual Frother features a frothing sleeve for cappuccinos and a steam tube, which is under the frothing sleeve, for lattes.
Frothing: When the frothing sleeve is placed over the steam tube, hot steam and air are injected into the milk. The air swirls inside the milk creating silky dense froth on top for cappuccinos.
Steaming: When the frothing sleeve is removed to reveal the steam tube, only hot steam will be injected into the milk, no airy froth will be produced. This is for preparing lattes.

Important

: To work properly, the frothing sleeve and steam tube must be completely cleaned after each use to avoid milk deposit build up.
Auto Rinse
The EC100 internal components are automatically rinsed while simultaneously maintaining the proper temperature for brewing and steaming/frothing milk, with no waiting in between brewing and steaming/frothing.