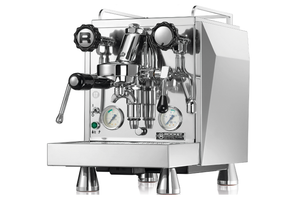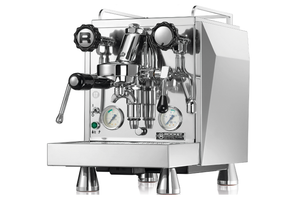 On Sale
Rocket Espresso Milano - Giotto Cronometro Type V (PID) Shot Timer
Get the most out of your home brewing experience with the Rocket Giotto Type V espresso machine! This beautifully handcrafted machine comes equipped with all the features you need to consistently brew the perfect espresso in your own home.
Features
Enhanced Temperature Control: The integrated PID system ensures temperature stability for optimal brewing results.

Heat Exchanger Boiler Design: Provides the ability to steam and brew espresso simultaneously.

Height Adjustable Feet: The adjustable feet allow for the machine to be set at a height preferable to the user.

Vibration Pump: Provides excellent extraction along with a rich layer of crema.

Water Feed: Removable 2.9 litre water reservoir.

Stainless Steel Body: The Giotto's, drip tray, cup warmer frame, and adjustable feet, are all made from rust-resistant stainless steel.

Dual Professional Gauges: These dual gauges provide readings on both the boiler and pump pressure levels for effective and accurate monitoring.

Insulated Frothing Wands: This safety feature keeps the frothing wand cooler for a longer period of time compared to an un-insulated frothing wand.
What's in the Box?
(1) Rocket Giotto Type V
(1) Single portafilter
(1) Double portafilter
(1) Blind portafilter basket for backwashing
(1) Rocket microfiber cloth
(1) Rocket hand tamper
(1) Group head cleaning brush
(1) Ground coffee scooper
(1) Instruction manual
(1) USB drive containing in-depth information and instruction on the Rocket Giotto Type V